Workstation for monitor
WORKSTATION FOR MONITOR, KEYBORD AND MOUSE
Easily adjustable work station for the best possible ergonomic comfort.
Easy to install on tabletop.
Can be operated with one hand.
Adjustable without tools.
Weight capacity: 0-10 kg.
VESA standard 75 x 75 mm/100 x 100 mm.
Supplied with assembly instructions.
Color:
Silver RAL 9006,
Item number:
LA-6AK with clamp mount.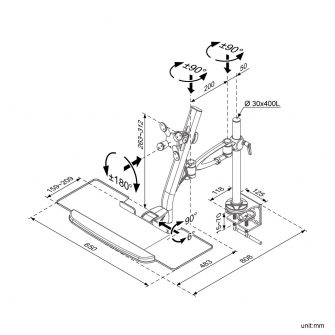 http://www.complement-ltd.co.uk/wp-content/uploads/2016/11/Complement_v04-31.pdf
0
yellow